I'll Help You Do What's Right
for Yourself & Your Loved Ones
Your Best Interests Come First
REACH OUT TODAY
Elder Law Attorney in Baltimore, Maryland
What Is Elder Law?
As seniors age, their ability to manage their accounts, and their property will eventually begin to decline. Elder Law attorneys can adapt or create an Estate Plan designed to best prepare for this period, making important decisions in advance that will be followed, and ensuring that the right people will be able to make the right decisions at the right time.
When Should I See an Elder Law Attorney?
Ideally, retirement planning should address not only the earlier years but the later years as well. Certainly, once someone has settled into retirement, they should meet with an Elder Law attorney to arrange a secure plan that will protect them, their assets, and their wishes.
As your elder law attorney, I can take the weight off your shoulders and help you prepare for the future. It's never too early to start the process of careful preparation, and the sooner you speak to an elder law attorney, the sooner you can gain peace of mind.
Elder Care Attorney in Baltimore, MD
Elder law affects anyone who is of an older age and needs to have real estate, health care, or financial provisions established. At the Law Offices Of David M. Goldman, I can help you draw up these plans and even assist you with matters that involve retirement. When a client in Baltimore, MD, submits a case to me, I give it my personal attention and look over every detail closely.
Whether you need help with legal matters that directly involve yourself or a loved one, I put forth the effort to make sure that no one's rights are in jeopardy. I even offer: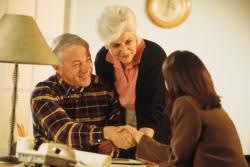 Free initial consultations

Flexible appointment availability

The chance to speak directly with an attorney
The Law Office Of David M. Goldman can inform you of all the details that are involved in elder law so that you can proceed with your legal matters with confidence. If you're in the Baltimore area, contact me today to learn more. Set up a free consultation to discuss how I can help you. I am proud to serve clients in both Baltimore and Towson, Maryland.